Loading...
Understanding and managing anger
Every individual will have a different disposition to anger. This means that, particularly in the case of pupils with BESD, you will need to be aware of:
What triggers their anger
How they react to anger
What helps to calm the situation
How you can work with them to raise their awareness of – and improve their reactions to – things that make them angry
The unit examines a range of approaches to anger management and includes information about:
How the environment affects anger and the contexts in which anger may flare up in your school
The physiology of anger
Psychological theories of anger
Managing anger
Emotional training
The physiology of anger
The body goes through many changes when a person gets angry.
Select different areas from the image to find out more about these reactions.
Muscles
Sharpened senses
Heart rate
Breathing
Metabolism
Digestive system
Skin
Endorphins
Judgement
The five phases of anger
Select a column from the diagram to find out more about any one of the five phases of anger, as modelled in Glynis M. Breakwell's 1997 book, Coping with aggressive behaviour.
Trigger

General frustrations towards the outside world or a specific threat – such as a personal attack – trigger angry emotions. It is the perceived threat, rather than the reality of the situation, which causes angry outbursts. Prevention techniques such as distraction or moving to a less stressful environment are likely to be most effective at this stage.

Close
Escalation

At this point, adrenaline is released into the bloodstream and physical changes begin to occur. Muscles tense, breathing becomes more rapid and blood pressure rises. The individual becomes less receptive to reason.

Close
Crisis

There is an explosion of anger and the individual's ability to make rational judgements, demonstrate empathy or listen to others is severely impaired. The body's prime objective becomes fight or flight.

Close
Plateau or recovery

At this stage, anger begins to subside. The body can take up to 90 minutes to return to normal and remains partially ready for action during this period. Recurrences of the crisis stage are possible if provocation persists.

Close
Post-crisis depression

Anger consumes incredible amounts of the body's resources, and it now needs time to recover. As the individual becomes more able to listen and think logically, they may feel guilt or remorse. During this phase, carers and teachers should focus on turning these feelings into a positive response, and try to avoid the development of negative emotions such as low self-esteem.

Close
Baseline behaviour
Different theoretical approaches to psychology may affect interpretations of the motivations and functions of anger. The resulting perspectives are summarised here.
Hide
Psychological theories of anger
The behaviourist perspective
From this perspective, anger is a learned response to past events, and is influenced by the individual's experiences of rewards or sanctions.
The behaviourist approach reasons that, if angry behaviour has produced positive results in the past, it is likely to be used again.
Behaviourists believe that behaviour can be unlearned in the same way it is learned, through the reinforcement of good behaviour and the sanctioning of bad behaviour. Behaviourist approaches also stipulate that it is easier to eliminate bad behaviour if it is replaced by a better, alternative way to act.
This perspective underlies some of the approaches taken by social training strategies such as SEAL, which encourage pupils to recognise triggers and consider alternative responses.
Managing anger
Select a circle to learn about various techniques for managing anger and calming situations. All interventions need to be carried out according to clear guidelines for managing conflict, with recognised procedures for the use of appropriate physical restraint.
Triggers

Techniques

Management

Reflection

Follow-up
Models of anger
You may find it useful to use models to teach pupils about the processes of anger. Visual representations such as 'the match', 'the fuse' and 'the explosion' help children to understand responses to anger by mapping an anger model to pictures. In this case, the match represents the anger trigger, the fuse represents escalation, and the explosion represents the crisis phase.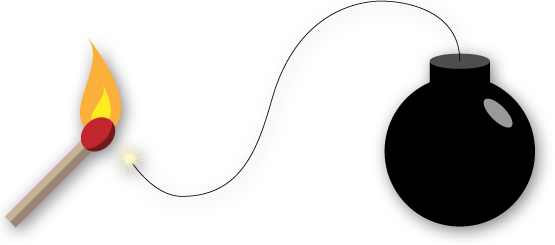 This mind map shows some of the social and emotional training techniques you can use with individuals or small groups to help pupils deal with anger.
Hide
Training techniques
Counselling and therapeutic approaches
Long-term counselling and therapeutic techniques can be used if angry tendencies persist. Select each technique on the mind map to find out more.
Hide
Counselling and therapy