Loading...
Targeted interventions and provision mapping
This unit examines the provision you can make to meet the needs of pupils with severe and complex SLCN. It describes the processes involved in mapping and monitoring the additional provision that your school makes for pupils with SLCN.
The unit covers:
Specific interventions for individual pupils
The characteristics of an effective intervention
Research into the outcomes of Wave 3 interventions
Provision mapping
Meeting the needs of pupils with severe and complex SLCN presents a challenge to secondary school teaching staff and leadership teams. The requirement for a specific and tailored intervention approach demands that secondary schools consider the individual needs of the pupil alongside the cost and resource implications of such interventions. Wave 3 interventions can take different formats; select each tab to find out more.
Hide
Wave 3 interventions
Direct Wave 3 interventions involve specialists, such as speech and language therapists (SALTs), working directly with pupils to address their SLCN.
While this approach gives the pupil(s) the benefit of optimum specialist input, it is an expensive form of intervention. Additionally, because SALTs are in high demand, a direct intervention can only be made available to a small percentage of pupils for a small proportion of time.
Interventions for severe or complex SLCN should be
Systematic

Explicit

Intense

Monitored
Ofsted's special educational needs and disability review, 2010, noted that identifying and tracking the progress of vulnerable pupils is a weakness in many schools. It highlighted that, of the schools and local authorities reviewed, those that had detailed and comprehensive provision mapping systems were the most successful in this area.
Hide
Provision mapping
A provision map is:
A strategic management tool.
A way of describing all provision that a school offers its pupils – including that which is "additional to and different from".
A tool with which to audit needs and plan provision that will meet those needs.
A means to evaluate the effectiveness of provision.
Something that can support communication with staff, parents and governors.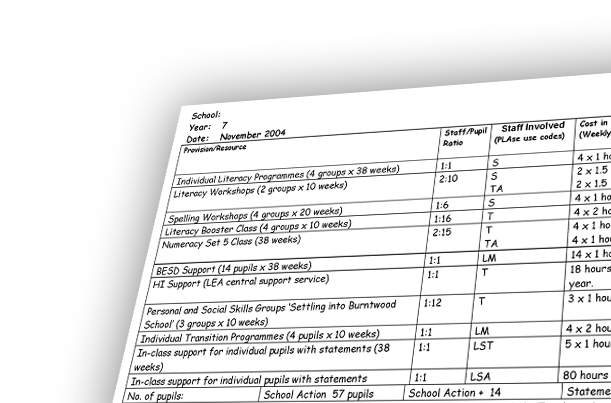 Creating a provision map for pupils with SLCN
If your school doesn't have a provision map, it is possible to create one that focuses just on the one group of pupils.
Follow the steps laid out here to review and plan provision for pupils with SLCN in your school.
1. Identify existing provision

2. Analyse future requirements

3. Compare

4. Review research

5. Plan provision

6. Assess and evaluate